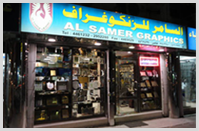 With almost 10-years' experience AL SAMER GRAPHICS offers its clients a complete and professional solution. From humble beginnings, Al Samer graphics has progressed into a successful business throughout Saudi Arabia.
Our policy is to satisfy our clients with the best quality and care. We facilitate the complete printing and engraving procedure for our clients from the beginning to the end, to assure the top quality and on-time production. We take care of your projects in every single step of production and keep informing you the progression.
Our engraving section using latest technologies and dvanced machines such as Trotec, Roland and Vision, perform engraving and etching works on Plastics, Brass, Copper and Stainless Steel in any diamention and thickness.

Well recognized organisation
In-depth understanding of the industry
Reliable products and services
Best industrial prices
High quality standards
Skilled workforce
Wide distribution network
Timely delivery of consignments, etc.


PO Box: 40633, Riyadh, Saudi Arabia
Tel. 01 446 8206/ 446 1232
01 295 2280/ 446 9529
Email : sales@samergraphics.com